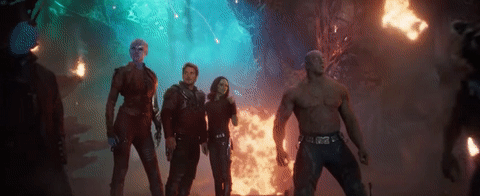 I went to see "The Guardians Of The Galaxy: Volume 2" during the opening weekend with my brother. And when we got back to my Toobworld Central, we popped the first movie into the DVD player and watched that again.
The two "Guardians Of The Galaxy" movies exist in the Borderland dimension between the Cineverse and Toobworld known as Comix Toobworld Marvel-1. They share that dimension with all of the current Marvel Universe movies plus the TV shows 'Agents Of SHIELD', 'Daredevil', 'Jessica Jones', 'Luke Cage', 'Iron Fist' and 'The Defenders'.
It would be so cool to have the Guardians in Earth Prime-Time, but it's not to be. Baby Groot did make an appearance, but that was in the Gekko's daydream in a Geico commercial. Even for him those are movies.
Even so, I'm writing about the Guardians because there are a few TV issues which must be dealt with from these movies.
First off, here's the basic timeline for both Guardians movies:
1980 - Meredith Quill is impregnated by Ego
1988 - Meredith Quill dies. Peter Quill kidnapped and raised by Yondu.
2014 - The events of both movies take place.
So 1988 is the absolute boundary for any pop culture references which Peter Quill might know, because he hasn't been back to Earth since he was first abducted.
Since we're only going to be dealing with the TV references.....
'TWO AND A HALF MEN'
"FISH IN A DRAWER"
This was listed in the IMDb connections because of a similar line of dialogue in both his episode and the first movie.
From the episode:
Hit the light.
I'm gonna check for semen.
My God.
It's like a Jackson Pollock painting.
Quill says the same line:
this would look like a Jackson Pollock painting.
This is just coincidence since that particular episode didn't even air until twenty years after Peter left Earth. But I am impressed, albeit somewhat dubious, that he knew who Jackson Pollock was by the time he was eight years old. I'm going to assume that art appreciation was something his mother shared with him.
So here are the references that do matter....
'ALF'
Quill has an 'ALF' sticker on his spaceship.
'ALF' ran on NBC for just over 100 episodes from 1986 to 1990. The show's third season didn't start until October 1988, so at best, young Peter only saw about 60 episodes of its complete run before he was taken. But there was more than enough time for a rush of merchandise from the show to flood the market before Christmas, 1986. At some point before he was abducted, Peter got himself an 'ALF' sticker, but apparently he never had any place worthy enough to stick it on. At least, not until he got his spaceship.






'CHEERS'
A relationship between two characters is compared to the "will they/won't they" romance between Sam and Diane.
Although it stumbled when it first began, 'Cheers' went on to become a powerhouse sitcom with two spin-offs ('Frasier', another powerhouse, and 'The Tortellis', eh... not so much), and connections to several other TV shows ('Wings', 'St. Elsewhere', and through 'Frasier', 'Caroline In The City'.) It aired on NBC from 1982 until 1993, and for the most part it held down the 9 PM timeslot on Thursdays as part of the Peacock Network's "Must See TV" prime-time block. There were a few times it aired at 9:30 PM instead, and once even at 10 PM.
But it seems a bit too adult for a kid, and those timeslots were all past Peter's bedtime. (I'm assuming Meredith was a loving mother but one who knew to establish guidelines for her son.)
However.... Meredith may have recorded the show regularly on her VCR and so Peter would have had access to that.
Shelley Long as Diane left the show in 1987, before Peter left Earth, so he would knew about the dynamics of her romance with Sam..... And he never got the chance to see how the series ended.
'FULL HOUSE'
Star-Lord references actor John Stamos as one of the many outlaws he's familiar with.
The IMDb contributor believes that it is because of the role played by Stamos in 'Full House' that Peter Quill identified with him as an "outlaw". But it may be that role as Uncle Jesse was more a character he admired for his ability to rock out. For a truly (well, nearly) outlaw character played by John Stamos, I think Peter was watching a lot of afternoon TV once he got home from school. And by that I mean soap operas, back in their heyday of the 1980s. And one of those would have been 'General Hospital' in which Stamos played a young punk kid with a heart o' gold, Blackie Parrish.
From Wikipedia:
Blackie Parrish was a fictional character on the ABC soap opera 'General Hospital'. He was the foster child of Rick and Lesley Webber. He was portrayed by actor John Stamos from 1982–84.
At the end of his run on the show, Blackie Parrish was sentenced to a correctional facility because he took the rap for the death of the girl that he loved. Three years later, Stamos would begin his prime-time takeover on 'Full House'.
So I think when Quill was talking about Stamos, it was because of Blackie Parrish and not Uncle Jesse.
'KNIGHT RIDER'
Ego briefly takes the form of Michael Knight.
There were four seasons of this show and not long after its debut, 'Knight Rider' was moved to Friday nights, so there would have been no problem for Peter, even at that young age to stay up late with no school on Saturdays. But even if he did miss a few seasons because he was so young, by 1986 when the show was cancelled, it was offered up for syndication. So Peter would eventually have caught up on the episodes he once missed and fully immersed himself in the adventures of the man he considered a father figure.
Peter Quill: I told Gamora how when I was a kid I used to pretend David Hasselhoff was my dad. He's a singer and actor from Earth, really famous guy. Yondu didn't have a talking car, but he did have a flying arrow. He didn't have a beautiful voice of an angel, but he did have the whistle of one. Both Yondu and David Hasselhoff went on kick-ass adventures and hooked up with hot women, and fought robots. I guess David Hasselhoff did kinda end up being my dad after all, only it was you, Yondu.
I don't blame you if you didn't notice, but I didn't speak of any of these references as Zonks. That's because 'Alf', 'General Hospital', 'Full House', 'Cheers', and 'Knight Rider' must be only TV shows in Comix Toobworld Marvel-1. It is in the dimension of Earth Prime-Time in which they are part and parcel of life on Toobworld.
I like to think that the creatives who come up with the TV shows which are a reflection of "real" life in Toobworld are somehow using their powerful imaginations to tap into the cosmic energies of that other world - that what they are dreaming up as fiction is actually factual in the main TV Universe.
Not every TV dimension has to have a counterpart for every main TV character.....
Excelsior!