May the Fourth be with you….
From The Los Angeles Times:
Peter Mayhew, who brought the Wookiee warrior Chewbacca to life in the original "Star Wars" trilogy, has died at age 74.
The British actor's family announced his death on social media, saying that he had died Tuesday at his home in North Texas. No cause was given.
"He put his heart and soul into the role of Chewbacca and it showed in every frame of the films from his knock kneed running, firing his bowcaster from the hip, his bright blue eyes, down to each subtle movement of his head and mouth," Mayhew's family wrote in a statement. "But, to him, the Star Wars family meant so much more to him than a role in a film."
Standing at 7 feet 3, Mayhew was originally cast as the fierce, furry sidekick and copilot to Harrison Ford's Han Solo owing entirely to his imposing physicality. Desperate to find someone in England who would be taller than Darth Vader, played by 6-foot-6 bodybuilder David Prowse, George Lucas found Mayhew, who had been working as a hospital orderly when he was discovered a year earlier and cast in the role of the Minotaur in Ray Harryhausen's fantasy film "Sinbad and the Eye of the Tiger."



From The Guardian:
The actor Peter Mayhew, who has died of a heart attack aged 74, carved out a place for himself in movie history when he played Chewbacca, Han Solo's furry sidekick, in the Star Wars films. The 200-year-old Wookiee warrior, smuggler and resistance fighter, known affectionately as "Chewie", was Han's co-pilot on the Millennium Falcon starship, fighting the Galactic Empire.
Lovable and loyal, with super-human strength and bravery, Chewbacca served as the conscience of Han, played by Harrison Ford, but Mayhew had no need to learn lines for the role because the Star Wars sound designer, Ben Burtt, voiced him with a mix of animal growls sourced from walruses, bears, tigers, camels and badgers. The 7ft 3in actor, his face concealed by a mask and wearing a mohair and yak hair costume, simply gave grunts and shrieks as cues to his fellow cast members. However, before filming, Mayhew had studied how gorillas moved, and he brought a distinctive knock-kneed gait to the role that endeared his character to audiences.
"Chewbacca is more of a teddy bear or security blanket," he said in 2015. "He's who you count on when things get scary. His size isn't intimidating because he's on your side. Chewie doesn't waste time talking – he just comes in and saves the day."

From the IMDb:
Born
May 19, 1944 in Barnes, London, England, UK
Died
April 30, 2019 in Boyd, Texas, USA (heart attack)
Height
7' 3" (2.21 m)
Peter Mayhew was born on May 19, 1944 in Barnes, London, England. Residing in Texas [before his death], this former resident of Yorkshire, England, was working as a hospital attendant at the King's College Hospital in London when film producer Charles H. Schneer saw his photo, literally standing above the crowd around him. Charles H. Schneer cast him in "Sinbad and the Eye of the Tiger" (1977), Ray Harryhausen's special effects film. It was just over a year later that he was asked if he wanted to do another role. Mayhew was told it was for a big hairy beast. It was the role of Chewbacca, the faithful 200 year-old Wookiee in "Star Wars: Episode IV - A New Hope" (1977) and his life was changed forever. Following the original "Star Wars" trilogy, Mayhew has done several commercials in the Wookiee costume including one for Cingular and Orange associated with "Star Wars: Episode III - Revenge of the Sith" (2005). In 1997, the twentieth anniversary celebrations of "Star Wars" were announced with the release of the "Special Edition" and all the conventions started. He [was] active on the "Star Wars" convention circuit where he signed autographs. He [wrote] two books, "Growing Up Giant" and "My Favorite Giant" and founded a non-profit 501(c)3 charity organization called "The Peter Mayhew Foundation" and is the purveyor of chewbacca.com.



When Mark Hamill is inducted into the Television Crossover Hall of Fame as a member of the League of Themselves, it will be acknowledged that he played Luke Skywalker. How could it not be so? Many of those appearances refer back to his definitive role.

With Mr. Mayhew, his eligibility for the Hall depends on making a decision as to whether or not he was appearing as himself (as he did in two of his qualifying appearances) or as the actual Chewbacca. There are several times when he's listed as Chewbacca with no mention of his actual identity as Peter Mayhew. And it's not like those appearances can be considered canon.

It's reminisent of the episode of 'I Love Lucy' when George Reeves guest-starred as Superman. There was no mention of him being the actor; he wasn't listed/announced as being George Reeves. Throughout the episode he is addressed as and referred to as Superman.

For all the "Intensive Porpoises", he was Superman. But I don't think I can make that same decisiion in this case.
Looking over his TV credits, I've decided he was appearing as himself, when he was often dressed (and credited) as Chewbacca.


The problem for Toobworld Central began with the appearance of the "Star Wars" cast on 'The Muppet Show', especially for Hamill. He was on the show not only as himself but also his "cousin" Luke Skywalker.
In the old days of my televisiological research, I think I may have sprained something in trying to come up with the pretzel logic needed for the "splainin to do." I mapped it out with the use of vortexes, time travel, theories of relateeveety.... I finally said "Bleep that" to all the feldercarb and paid obeisance to Occam's Razor: "One should not make more assumptions than the minimum needed."
Therefore, Mark Hamill was appearing on that episode only as himself. And he was playing Luke Skywalker as he did in the movies. The same held true for Mr. Mayhew when he was seen in the Chewbacca outfit on the show. That holds true for his appearances as Chewbacca in 'Glee', 'Donny And Marie', and in several commercials.
I've yet to check out all the commercials, but it could be that the only time he actually was Chewbacca on television was in "The Star Wars Holiday Special". I'm sure George Lucas hates this, but for Toobworld Central, the live-action segments of that are part of the Cineverse, just as the animated bits are accepted into the Tooniverse.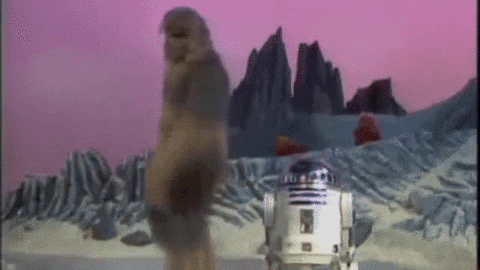 So here are Peter Mayhew's credits which qualify him for membership in the Television Crossover Hall of Fame. In some, he's simply Peter Mayhew; in others, he's seen in his costume as Chewbacca.
Donny and Marie

- Episode #3.1
(1977)
... Chewbacca
Also in this episode were Redd Foxx, Paul Lynde, and Kris Kristofferson, with Anthony Daniels as C-3PO. R2-D2 was there as well, but probably fully automated; there's no mention of Kenny Baker being involved. As for Darth Vader, his voice was provided by the great Thurl Ravenscroft, voice of Tony the Tiger and the singer of the Earle Hagen songs in "How The Grinch Stole Christmas".
So I think it's safe to assume that it has to be Peter Mayhew under that yak fur – accept no substitutes! – and not the real Chewbacca,
The Muppet Show

- The Stars of Star Wars
(1980)
... Chewbacca
From the IMDb:
While the Star Wars characters search for Chewbacca around the theatre, Luke's cousin, Mark Hamill, offers to perform over the objections of the Gershwin gargling guest star, Angus McGonagle.
Since I used this as the example at the beginning, I'm standing by it – we're seeing Peter Mayhew as Chewbacca, not Chewbacca himself.



No 73


- The Disagreement

(1983) ... Himself



From the IMDb:
Ethel is building a hovercraft in the yard. Alec is asking viewers to call-in to suggest an ending to his play. Martin from No 75 is complaining about the noise. Peter Mayhew drops by to talk about "Return of the Jedi".





O'Bservations:
One of only two appearances as himself without the costume being involved in any way, although they do talk about Chewie.


Ethel Davis:
You know, I'd make terrible bookends with you.
Peter Mayhew:
Depends on the size of the books, don't it?
Ethel Davis:
That's true. How tall are you?
Peter Mayhew:
I'm seven foot ten.
(O'Bservation – to my ears, it sounds like he said 7-foot-two.)
Ethel Davis:
I'm four foot twelve.
Do you mind if we just have a measure?
Late Show with David Letterman

- Ray Romano/Dave Matthews Band
(2005)
... Chewbacca / Top Ten List Presenter
From the IMDb:
The 'Top Ten List' segment with topic 'Things Never Before Said By a "Star Wars" Character' is presented by dressed up characters from the Star Wars movies. The Chewbacca costume was actually worn by the real Chewbacca actor Peter Mayhew.
Top Ten Things Never Before Said By A "Star Wars" Character
10. C-3PO: "May the Force be with the Miami Heat--daddy's got 20 large riding on them."
9. Storm Trooper: "Ask your doctor or pharmacist if Cialis is right for you."
8. Ewok: "Seacrest, out!"
7. Darth Maul: "The only good thing ever to come from planet Earth is fish sticks."
6. R2-D2: "I just hooked up backstage with an ice machine."
5. Imperial Guard: "The only people more powerful than I are Emperor Palpatine and Oprah."
4. Chewbacca: "We got spaceships and lightsabers, but nobody can find me a damn razor."
3. Jango Fett: "Let's put on some Al Jarreau so me and you can get freaky."
2. Tuscan Raider: "How bad is CBS screwed without 'Everybody Loves Raymond'?"
1. Darth Vader: "I once used the force to open a jar of Vlasic kosher pickles."
Glee

- Extraordinary Merry Christmas
(2011)
... Chewbacca (uncredited)
From the IMDb:
When the Glee Club is asked to perform at two different events, on the same day, at the same time, they have a difficult decision to make.
News source:
THR is reporting that everyone's favorite Star Wars Wookiee, Chewbacca, is making a guest appearance on Fox' "Glee." This has been further verified by cast members Chris Colfer, Harry Shum Jr. and Mark Salling who recently tweeted personal photos with Chewie. We're unsure how Chewie fits in with the teen musical series, but if you're a "Star Wars" fans it may be worth checking out even if you don't watch (or hate) the show.
Breaking In

- Episode XIII
(2012)
... Peter Mayhew
From the IMDb:
Molly's uncle, "Star Wars" star Peter Mayhew, hires the delighted Contra team to retrieve his stolen Chewbacca costume for a fortune. Oz hopes that will enable him to buy the firm back from OCP, but still finds Veronica's help indispensable.
O'Bservation:
This episode puts Peter Mayhew in a select group of League of Themselves members whose televersions re actually related to fictional characters of Toobworld.
Others in that club with Mr. Mayhew include:
Tim & Luke Russert, cousins with Megan Russert ('Homicide: Life On The Street')

Art Carney, cousin to Vera Louise Gorman ('Alice')

Bryant and Greg Gumbel, related to Sammy ('The Nanny')

Nat "King" Cole, older cousin to Little Jimmy ('The Jack Benny Program')

And now the character of Molly Hughes has a relative who originates from Earth Prime, with the televersion of Peter Mayhew as her uncle.
Now let's take a look at some of the commercials in which we saw "Chewbacca":
PEPSI COMMERCIAL
O'Bservation:
Apparently, this is raw footage for the finished product, but you can hear the director address Mr. Mayhew as "Peter". Therefore it has to be Peter Mayhew under the fur suit.
CURRY'S COMMERCIAL
O'Bservation:
I see no reason to consider this anything but Peter Mayhew in costume as Chewbacca.
CINGULAR COMMERCIAL
O'Bservation:
It's hardly likely that the studio producer was able to travel back in time to retrieve the real Chewie to do the ringtone recordings. So another point in Mr. Mayhew's favo
One last O'Bservation about the blipverts which were made in connection to "Solo", the last "Star Wars" movie to be released so far: by this point in the history of the franchise, Mr. Mayhew was basically retired from the films. And again, we're celebrating the man in the suit, not the character of Chewbacca.
Welcome to the Hall, Peter Mayhew. As mentioned earlier, your co-star Mark Hamill will eventually be inducted, in the same category as you are – as a member of the League of Themselves. But as Obi Wan Kenobi pointed out, "There is another."
Near the end of 2017, we inducted Carrie Fisher as a memorial tribute for her contributions to Toobworld as a member of the League of Themselves. And because they passed away so close together, within days of each other, we inducted her mother Debbie Reynolds at the same time for her contributions as well.
Good night and may God bless, Peter Mayhew. May the Force be with you….