From Variety:

[December 18, 2018]

Penny Marshall, who starred alongside Cindy Williams in the hit ABC comedy "Laverne & Shirley" and then became a successful director, died on Monday night at her Hollywood Hills home due to complications from diabetes, Variety has confirmed. She was 75.


Marshall was the first woman to direct a film that grossed more than $100 million, the first woman to direct two films that made more than $100 million, and she was only the second woman director to see her film Oscar-nominated for best picture.
"Laverne & Shirley" ran from 1976-1983 and proved an enormous success for ABC. It was the No. 3 show on television in 1975-76, No. 2 in 1976-77, and No. 1 in 1977-78 and 1978-79, spawning ancillary revenue in the form of merchandising, a record album, and an animated series based on the show.
As you may have noticed starting with last Friday's Hall of Famer induction ceremony for Doris Day, we had five straight days of memorial blog posts – three for Miss Day as a member of the League of Themselves, one for Peggy Lipton's Norma Jennings from 'Twin Peaks', and then a "Two for Tuesday" salute for Tim Conway (one for himself and one for his first breakout character of Ensign Chuck Parker.)

All of those followed on the heels of the news about their passing. Laverne DeFazio is a powerful enough TV icon that she should have been a monthly showcase, but I was already committed to making this a theme year for the Hall's 20th anniversary with TV adaptations of superheroes and villains.

We also could have had her as a Friday Hall of Famer at any point ealier this year, especially in January for the Classic TV theme. However, I thought it appropriate to save her for this month as one of the Queens of May.

Here are the credits which locked her in as deserving of the TVXOHOF membership.
Happy Days

(1975-1979)

5 episodes
Laverne & Shirley
(1976-1983)
178 episodes

Blansky's Beauties
- Nancy Remembers Laverne
(1977)
Mork & Mindy
- Pilot
(1978)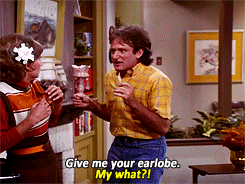 She can also be found in The Tooniverse:
Mork & Mindy/Laverne & Shirley/Fonz Hour

(1982)
8 episodes
Laverne & Shirley in the Army
(1981-1982)
13 episodes

Here is some of the information… information… information… about Laverne from her show's wikia:
FAMILY:
Frank DeFazio (father)

Unnamed mother, deceased

Antonio DeFazio (cousin)
ABOUT:
Tough-talking type, she's the rather gutsier of the two, being she and longtime roommate Shirley, both in Milwaukee, where she also grew up, and in California

Laverne DeFazio is one of the main characters on Laverne & Shirley who appears in 177 of the 178 episdoes of the series. The character was played by Penny Marshall, who also played the character in five guest appearances of its parent TV series, ABC-TV's Happy Days. Laverne also appears in the pilot episode of another popular Happy Days spinoff, Mork & Mindy, as well as the short-lived spinoff ABC-TV's Blansky's Beauties in the episode "I Remember Laverne".
About Laverne
Laverne is known for being a tough-talking tomboy. She was born and grew up in Brooklyn, NY with her Italian immigrant parents. Laverne's parents later moved to Milwaukee when she was about 11 years old, where her mother later died.
Friendships
Laverne worked alongside best friend and roommate Shirley Feeney, whom she's known since moving to Milwaukee as a child. They attended high school together, and worked together as bottle-cappers at Shotz Brewery there in Milwaukee, before packing up and moving to California, along with her father Frank DeFazio and his new wife, Edna Babish, who was the landlord of the apartment building in which they shared an apartment together for 5 years. Her other friends included Lenny, Squiggy, Shirley's boyfriend Carmine, Rhonda, and even good ole Rosie Greenbaum (although it's more of a "frenemy" relationship as they often feud with each other). The same thing can be said about her and Shirley's relationship with Rhonda Lee, a tall, blonde buxom actress/model whom they meet upon their move to Burbank.

Laverne and Shirley soon would find jobs as gift wrappers at Bard's Department Store in Burbank, CA, where she would meet a stuntman and aspiring actor named Sonny St. Jacques (Ed Marinaro) and begin dating him for several episodes.
Milk and Pepsi is Laverne's favorite drink. Her trademark is the script letter "L" monogrammed on her shirts and sweaters, an idea Marshall got from seeing a vintage sweater in the wardrobe department with an initial sewn in the upper left corner, something that would help the audience remember that she is Laverne.

Laverne came close twice to marrying; she almost married a sailor named Sal Malina, although she didn't love him. Another was a fireman named Randy (also played by Marinaro), whom she began dating while in Milwaukee, but he died in the line of duty.

Unlike her friend Shirley, who winds up marrying an Army doctor named Walter Feeney, Laverne's never been married.
I'd like to think that Ms. DeFazio lived in Toobworld as long as Ms. Marshall did in both the Real World and the main Toobworld. I did a little (very little) research into her first appearance on 'Happy Days'. That was broadcast in 1975 when Ms. Marshall was 32 years old. In that first episode ("A Date With Fonzie"), Potsie Webber sang "Great Balls of Fire" which Jerry Lee Lewis recorded and released in 1957. I'm thinking Potsie was singing that by at least 1958, so I'm going to claim that Laverne – being the same age as Penny Marshall at the time she made that episode, was born in 1926. That means she was 92 years old when she passed away last December.

Good night and may God bless, Laverne.
Welcome to the Hall.